Brand Genericide: When Brand Names Become Commonplace
When a particular product/brand combination so dominates the market that its brand name becomes the generic term for the item, we call it brand genericide—and it's terrible news for your brand.
When you're asked for a Kleenex or a Q-Tip, you're going to hand out a tissue or a cotton swab. But did you know that the word Kleenex is still a legally recognized trademark of Kimberly-Clark? Same with Q-Tip, a word still legally trademarked by Unilever. Ok, maybe you recognize Kleenex and Q-Tip as specific brands, but what about Popsicle or Jet Ski or Roller Blades or DixieCup…or even Zipper? And that's just the tip of the iceberg!
While I was growing up in the 70's, it seemed like the ultimate goal of every commercial was to turn a particular product into a household name. But what happens when your brand is SO successful that your innovative product name becomes meaningless?
Now you're looking at the antithesis of brand success…
Brand Genericide: The Problem
When a particular product/brand combination so dominates the market that its brand name becomes the generic term for the item, we call it brand genericide—and it's terrible news for your brand. Instead of differentiating your business, products and/or services from the competition, now your brand is synonymous and indistinguishable from the competition, confusing consumers and dramatically lessening the power of your brand.
Talk about irony…a company spends millions of dollars to ensure ongoing brand legacy as a household name, yet, in doing so, actually devalues the brand in the long run! THEN, that company has to spend even more money defending their brand trademark. Yikes. Typically, a company will legally lose a brand trademark for two reasons: 1.) The patent expires, or 2.) The company loses a lawsuit after suing another company for using its name, thus the court deems the brand generic.
But get this: just because a legal trademark exists, that doesn't prevent the public from incorporating a common product or service name into everyday language. Seriously—just google it. (See what I did there?)
More Examples of Brand Genericide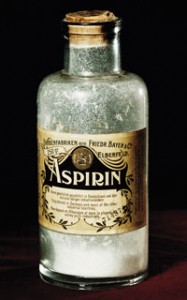 Aspirin
Created by Bayer in 1897, Aspirin became wildly popular in the first decades of the 20th century. Unfortunately for Bayer, its American patent on the name expired in 1917. Other drug companies jumped at the opportunity, using the word 'aspirin' for their own branding purposes. (Photo Source: Bayer AG: Corporate History & Archives)
Escalator
Escalator inventor Charles Seeberger sold the trademark name rights to the Otis Elevator Company in 1910. In an interesting development in national trademark retention law, Otis Elevator Company lost their trademark rights in 1950 in the Haughton Elevator Co. v. Seeberger decision. Why? Because Otis so often used the term 'escalator' in a generic manner in their own patents and advertising!
Yo-yo
The yo-yo suffered a similar fate. Though invented around 1866,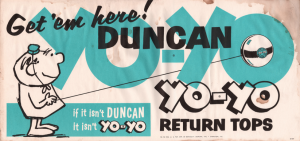 it wasn't until 1932 that Donald F. Duncan trademarked the term 'yo-yo.' The Duncan Yo-yo Company lost its U.S.trademark in a 1965 case, as the courts deemed the term "yo-yo" too ingrained in common speech to be a unique trademark. (Photo Source: Jason Liebig.)
Efforts in Brand Survival
Xerox
When Xerox introduced the first automated copier in 1959, it wasn't long before consumers verbified the brand name, (as in, "Can you Xerox these documents for me?"). The company opted for a very aggressive ad campaign to educate the public. A 2003 ad even lamented, "When you use 'Xerox' the way you use 'aspirin,' we get a headache."
Band-Aid
Aware that the popular adhesive bandage trademark is in danger of becoming genericized, Johnson & Johnson went as far as to change the lyrics of their television commercial jingle from "I am stuck on Band-Aids, 'cause Band-Aid's stuck on me!" to "I am stuck on Band-Aid brand, 'cause Band-Aid's stuck on me!"
Google
Debuting in 1998 and quickly embraced as a superior search engine, 'to google' became a verb synonymous with web searching. Many experts actually say that Google has benefited from the usage, citing the fact that people actually go to Google to google. Despite this, Google is concerned with brand genericide, so the company has publicly discouraged the use of the verb.
Is Your Brand at Risk of Genericide?
The good news is only 5% of U.S.brand names risk becoming genericized. But if you're concerned about the integrity of your brand trademark, the sooner you take action, the better.
Protect your brand by…
Being aware of your trademark rights
Educating the public and other businesses on appropriate brand and trademark use
Stopping other businesses from using your brand name
Using a generic term after your trademark to provide a description of the product or service
Never using your brand name in a generic fashion, whether in publications or in any advertising medium
Weigh In…
What do YOU think? Many company leaders would be ecstatic to see their brand name join the American lexicon, but the danger of brand genericide is a very real problem for many big brands.
Do you think companies like Xerox, Band-Aid, and Google have been successful in their efforts to retain the integrity of their brand name? Leave a comment below!
Learn more about the author, Nora Richardson.
Comment on this article
... Nora, your article is Spot-On!!!

Warm Branding Socks, Rossow

Posted by

Nélida Kreer

, Montevideo, Montevideo Uruguay |

Nov 29, 2012

Riveting article. Certainly inspires a thought or two!

Here's a couple more for your collection of brands on which genericide has been inflicted by their own widespread success:

in Brazil, "Vespa", an Italian motor-scooter brand, became generic for any motorscooter.

In the U.S.: "fedex" has become a verb (can you fedex those docs over to me?), in much the same way as Xerox and Google have.

Also, others that come to mind are champagne, cognac, and why not, "coke" or "coca-cola" (for any kind of cola beverages).

The phenomenon of genericide seems to me (although I know zilch about marketing, I am a translator by profession) something like when a famous painting, or a book, goes into public domain. That's that, it doesn't mean that the value of the product, or the piece of art is diminished, but it has gone into the mainstream and the authors or their heirs cannot do a thing about it. The people have made them, so to speak, their very own.

Posted by

Victoria Ann

, Geneva, Illinois |

Nov 29, 2012

Wow - great food for thought - thank you!!

Regarding "coca-cola" when I waitressed for Friendly's we had to say "we serve Friendly cola" if they asked for "coke" or "coca-cola". If they only asked for "cola" it was ok, that's the generic part of the name but "coke" is owned and there were legal implications if we didn't distinguish -- mystery customers from corporate would report us if we didn't get it right.

of course customers would insist there's no difference and we could explain it was the cola-syrup but Friendly's brand to which they'd snap back -- "does it bite"?

Posted by

Nélida Kreer

, Montevideo, Montevideo Uruguay |

Nov 29, 2012

@Lauren Swann: Haha! See what I mean? It's the users every time who define when a brand becomes lexicalized, if you'll allow me the linguistic term (i.e., when it becomes a part of the common language).

Down here where I live (Montevideo, Uruguay - the southern cone of South America for those of you who are not overly familiar with the geography of these parts) "una coca" (a coke) has become a synonym for any cola drink. The table attendant will maybe specify "we serve Pepsi", for instance, and the customer will say, "that's all right".

@Nélida Kreer: It isn't just an Uruguay thing...the South (the southeastern most US states) are notorious for calling any caramel colored soda a "Coke." So it probably is more of a world issue for Coca-Cola.

@Everyone: Thank you to everyone for all the responses today. I am sure there are many more brands that are in fear of Brand Genericide and already been a victim. Keep coming up with more and maybe we can come up with a complete consolidated list. :)

Posted by

Brenda Reed

, Redmond, Washington |

Nov 29, 2012

So, I'm launching a new brand and would love some feedback. I have known about brand generalization, which this article describes very well, for some time now. But, what about pluralization?

My Brand: Footmarks

For marketing, I want to add to the definition of what a footmark is: Currently, it is "a footprint" per dictionary.com.

My Addition: foot·mark - a reference to a digital resource that was saved from the physical world and stored in the cloud.

So, my brand is Footmarks and if the general public uses "footmark (not plural)" as an action or something they do, would this be considered generalization?

Thoughts?

I think this applies to very large brands. If you told an entrepreneur with less than $1M in revenue that someday people will use their brand as a common-place term... they would be thrilled. I would.

Don't get me wrong - I think your article is valid... but I also think it would be a great problem (or measure of wild success) to have for an entrepreneur!

@Jason Spanos: You are right...this does apply to very large brands. If you are an entrepreneur with less than $1M in revenue and you aren't dreaming that your business isn't going to be a household name from the start, your not dreaming big enough. As business owners, it is our responsibility to know about these things now so we can make the necessary decisions from the start of our business idea.

And some people just don't know or think about these kinds of issues until it is too late. And yes, it is a "good" problem to have from one point of view...but when you are experiencing it, I would say from that point of view you are thinking about how much time, effort, money and sweat you have put into a company name/brand just to have it become lexicon and ANY good or bad brand can use it an benefit from it? Sounds pretty pointless.

Posted by

Perry Moore

, Vancouver, British Columbia Canada |

Nov 29, 2012

How about "Brand Prison" when a brand becomes so looked on for 0ne thing that people do not accept or trust change. Example: McDonalds the name of a fast food company and a noun for bad eating, do people trust them when they say they are going healthy? or how much are they spending to try and change peoples minds.?

Or actors and musicians personal/creative brand getting pigeoned into one type of role.

Point: Branding is a fast way of getting your name and service known just be sure it is an open brand that can grow.

RE: "Brand Prison" there is a PR theory that any publicity, good or "bad" increases brand awareness (perhaps the xtra-strength Tylenol scare of the '80s is a good case-study in such a theory, including their crisis management and aftermath)

McDs never attempted to establish itself as a place chock full of healthy foods, they wanted to be associated with quick, easy, fun, convenient and most importantly - the quarter pounder and fries you get in Maine, you can count on it tasting the same as the one in Wyoming.

They added salads and have experimented with McLean Deluxe, etc to have offerings in that category eg -- kids get the fun meal and mom can still get a salad.

but all QSR and kids food marketing is getting so hammered amidst the obesity crisis they are trying to show some corp/social responsibility too

Still, if they stopped selling salads they'd probably keep selling burgers and fries. but if they stopped selling burgers and fries and only offered their healthier items I suspect the sales differential would likely be far more significant ...

Posted by

Perry Moore

, Vancouver, British Columbia Canada |

Nov 29, 2012

for Preston Reed (and all) I would like to share what i am learning talking with Internet startup company mentors here in Vancouver B.C..

Own your brand! Search Engine Optimization.

Okay people are now using your word as a verb, let them it is a compliment to your creativity and an opportunity for social medial relationship building as well as getting a higher rating on Google.

What makes it unique to you are: The story of how it came to be, the lessons of what it can do for others and any related copyrighted grahics and print.

From these search for the most popular related keywords to use in all your postings and advertising so when people do "Google" the word your name comes out on top.

Also get as many other people to testify that you are the originator of that word in that use offering that benefit.

Great food for thought, Nora! Love the terms "brand genericide" and comments on "brand prison"... though most of us Bizniks are probably not in danger of such things. (Actually, I'm guessing one value of "small" is the ability to re-invent yourself.)

Hadn't heard that Google doesn't approve of us saying we're "googling". Though it seems that if you're using Bing or chrome, you're "searching"... right? I think it's done google only good so far...
Nora's current promotion
What's Your BMI (Brand Mass Index)?

The first step to better branding is to download our free BMI (BRAND Mass Index) Analysis report at www.spot-onbranding.com.

You'll learn…

• What it...[more]

Updated May 04, 2012

Article tags

brand genericide
branding mistakes
trademark rights

Add a tag

Nora's other articles

Related Articles